Redundant License Managers - Overview
Sentinel RMS provides License Manager backup by creating the redundant License Managers setup. All the designated License Managers are grouped together to form a pool so that the next License Manager can take over when the primary License Manager (leader) goes down. As a result, the in-use licenses are not lost and continue to be served seamlessly by the new leader License Manager.
NOTE   If the primary License Manager (the old leader) comes up, it reclaims leadership and the control is transferred back to the primary License Manager.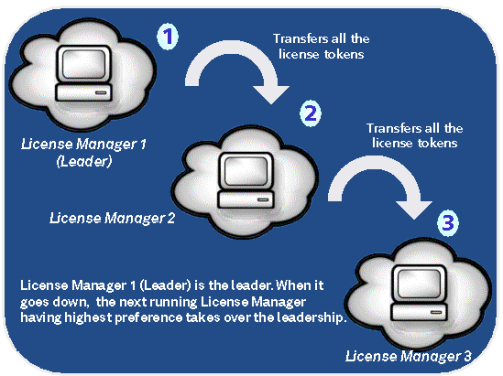 We recommend you to read through the following topics to understand redundant License Managers.
>Requirements and Recommendations for Setting Up Redundant License Managers
>Setting up the Redundant License Manager Pool
>Maintaining the Redundant License Manager Pool
>Redundant License Managers and Usage Logs