lservnt - Starts the License Manager on Windows
lservnt starts the License Manager and sets various License Manager options.

Setting lservnt Options Using the Windows System Services Console
On a supported Windows system, use the following steps:
1.In the Services window, locate Sentinel RMS Development Kit License Manager and double-click it.
2.Stop the License Manager (service, if running already).
3.Set the parameter(s) in Start Parameters. For example, -s mylicensefile -l myusage.log -f mytrace.log -tr 7 will have the following result:

While starting a service manually, you can also include additional startup parameters.
To do so:

>Select the relevant service from the list of services.
>Right-click and select the Properties sub-option from the pop-up menu that appears.
>Type the parameters in Start parameters.
>Click Start.


However, these settings are not persistent; Windows uses them once, and then restores the default settings on next automatic service startup.
>mylicensefile will be searched by the application for the license code. Any new licenses added to the RMS License Manager will be added to this license file.
>myusage.log will be created containing all the License Manager usage information (such as, the license server start, shutdown, license request, and license release).
>mytrace.log will be created containing the License Manager trace logs. Level 7 enables the functions, keys, and errors trace logs.
NOTE   The Windows Service Controller ignores the double quotes (" "). So, do not use double quotes while setting options, else these will be ignored. For example, if you specify -f aa"aa, then it will be interpreted as  -f aaaa.
4.Start the License Manager after providing the settings.
See the screen-shot below for an example.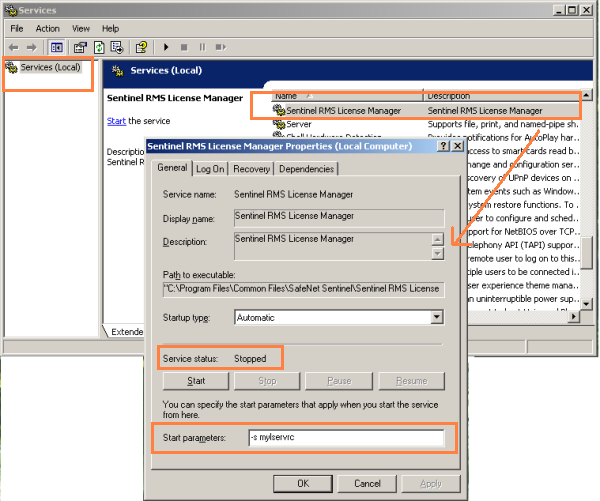 Setting lservnt Options Using the Command Prompt
The following options are provided for lservnt:
Option
Description

-H or -h

Display list of lservnt options. Displays the help for lservnt.

-X remove

Remove the License Manager service.

-X install

Install the License Manager service.

-X start

Start the License Manager service.

-X stop

Stop the License Manager service.

-X status

Get License Manager status.

-X commline

Starts the License Manager service and sets the options defined in License Manager - LSERVOPTS Environment Variable.

The Sentinel RMS License Manager Windows service (lservnt.exe) does not read startup options if specified as: <OSDrive>:\Program Files\Common Files\ArchestrA>lservnt.exe -l c:\SafeNet.log.

Instead, specify the option preceding -X commline. For example, the following command will start the License Manager plus set the usage log in C drive by the name SafeNet.log:

<OSDrive>:\Program Files\Common Files\ArchestrA>lservnt.exe -X commline -l c:\SafeNet.log

 
See Also: